Divemaster
The First Step as a PADI Professional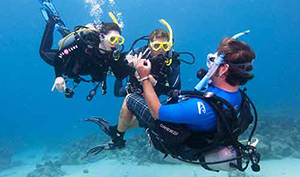 Cost of Divemaster Course
$1553
Includes:
Class $820 value
Crew Pack $379 value
eLearning $235 value
DM Application $119 value
Your adventure into the professional levels of recreational diving begins with the PADI Divemaster program. Working closely with PADI Instructors, you expand your dive knowledge and hone your skills to the professional level. PADI Divemaster training develops your leadership abilities, qualifying you to supervise dive activities and assist instructors with student divers.
After completion of the Divemaster Course, there are PADI courses you can teach after successful completion of instructor training with a PADI Course Director. They will allow you to earn extra income while getting experience teaching. These courses include PADI Digital Underwater Photographer Instructor, Emergency First Response Instructor and PADI Oxygen Provider Instructor. The Dive Shop offers package pricing if you sign up for one or more of these classes at the same time when enrolling for the PADI Divemaster Course.
The Dive Shop offers an easy schedule for the working person outside the dive industry. If this schedule does not work for you, private sessions are available.
Email coursedirector@tdspros.com with any questions
PADI Rescue Divers who are at least 18 years old may enroll in the PADI Divemaster course. You also need to have:
Emergency First Response Primary and Secondary Care (CPR and First Aid) training within the past 24 months
A medical statement signed by a physician within the last 12 months
At least 40 logged dives to begin the course and 60 dives to earn certification.
Note that qualifying certifications from other diver training organization may apply – ask your Dive Shop Instructor
DIVEMASTER E-learning
Code Acquired
At
The Dive Shop
What Will I Learn?
The PADI Divemaster course teaches you to be a leader and take charge of dive activities. Topics and practical workshops include:
The role and characteristics of the PADI Divemaster
Supervising dive activities and assisting with student divers
Diver safety and risk management
Divemaster conducted programs and specialized skills
Business of diving and your career
Awareness of the dive environment
Dive setup and management
Mapping an open water site
Conducting dive briefings
Organizing a search and recovery project and a deep dive
Conducting a scuba review and skin diver course
Assisting with Discover Scuba Diving and leading Discover Local Diving programs
Gear You Will Use
As a dive professional, you'll want to have all your basic scuba equipment, including:
a dive compute
a dive knife
at least two surface signaling devices.
During practical skills exercises, like underwater mapping and search and recovery, you'll use:
a compass
floats
marker buoy
lift bags and slates.
Your Dive Shop Instructor may suggest additional gear that will be useful throughout your diving career.
2017 Class Start Dates
April Class
April 4th: 6pm – 8:30pm
April 19th: 7pm – 10pm
April 22nd: 6pm – 10pm
April 24th: 7pm – 10pm
April 25th: 6:30pm – 8:30pm
April 26th:  6pm – 10pm
April 30th: 6:15am – 12pm
May 2nd: 7pm – 10 pm
Himalaya Trip
May 12 – 14
September Class
Sept 7th: 6pm – 8:30pm
Sept 19th: 7pm – 10pm
Sept 23rd :6pm- 10pm
Sept 26th: 7pm – 10pm
Sept 30th: 6pm – 10pm
Oct 1st: 6:15am – 12pm
Oct 3rd: 7pm – 10pm
Himalaya Trip
Oct 14 – 16
Call 520-326-DIVE for more information.
THE DIVE SHOP IS A PADI FIVE STAR INSTRUCTOR DEVELOPMENT CENTER
The PADI System of diver education is based on progressive training that introduces skills, safety-related information and local environmental knowledge to student divers in stages. PADI courses are student-centered and provide maximum practice and realistic application.