Bubblemaker Part
Bubblemaker is as Fun as it Sounds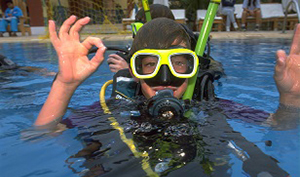 Bubblemaker Birthday Party
Bubblemaker is as fun as it sounds – a chance for kids to blow bubbles by scuba diving.
Children who are at least 8 years old can use scuba gear to breathe underwater and swim around in shallow water. Have a party or celebrate a birthday by throwing a memorable, exciting Bubblemaker event with friends and family at The Dive Shop.
Your child can experience the wonder of SCUBA with their friends and family!
Course includes:
Cake, drinks, and ice cream for up to 10 children
($20 per additional child)
Custom invitations mailed to guests
Party favors and decorations
Underwater photos of all guests
Use of real scuba gear and supervision from the best PADI Instructors and Dive Masters
What you need to provide
All you need to do is provide a guest list and we'll do the rest!
Doctor release is only needed if you answered "YES" to any medical questions, for your safety answer all questions honestly, a "YES" doesn't mean that you can't SCUBA, you just need your doctor's approval.
Call 520-326-DIVE for more information.
THE DIVE SHOP IS A PADI FIVE STAR INSTRUCTOR DEVELOPMENT CENTER
The PADI System of diver education is based on progressive training that introduces skills, safety-related information and local environmental knowledge to student divers in stages. PADI courses are student-centered and provide maximum practice and realistic application.