LEARN TO DIVE - SNORKELING
The Dive Shop Discover Snorkeling Course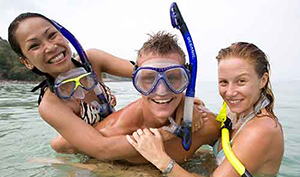 Cost of Discover Snorkeling Course
$25
Includes:
70% of our world lies just below the surface of our Ocean Planet, so The Dive Shop would like to introduce you to some real locals of another kind. Let us show you the magical underwater world that co-exists with us.
The Dive Shop & PADI offer you a fantastic range of snorkeling courses designed from beginner to advanced level & for the young & young at heart.
Snorkeling is fun, easy, safe, and inexpensive. Best of all, you can snorkel almost anywhere in the world where there's water! Snorkelers can view and interact with aquatic creatures, take photographs, and experience the wonders that our Oceans provide.
The PADI Discover Snorkeling course is your first step towards exploring the underwater world. Take your first glimpse underwater with confidence with helpful tips and suggestions to make the most of your first encounter with a myriad of marine creatures that only the brave few choose to see. Why not combine this with the PADI Underwater Photography Course for snorkelers to capture these moments to show your family & friends. Why not participate in The PADI AWARE Fish Identification to really appreciate, identify & understand this unique environment.
Better still why not let us organize or take you on an unforgettable journey to one of our many national and/or international Snorkeling Destinations to really appreciate our Blue Planet (See our travel page).
So take your first plunge underwater with confidence with PADI & The Dive Shop & enroll now to share this experience of a lifetime and remember that there is "So much Ocean, so little time"
Class Schedule
Courses are setup as private sessions.
What you need to provide
Required Personal Gear: Mask, Fin, Snorkel, Boots
2018 Class Dates
Year round by private appointment.  Please call to schedule your class.
Course includes:
2 hours of in the water training