Dry Suit Diver
The Dive Shop Dry Suit Diver Course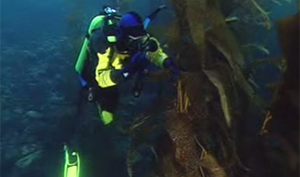 Cost of Course
$215
Includes:
3 hour classroom
Pool Session
PIC Card
2 certification dives
PADI Dry Suit Diver Course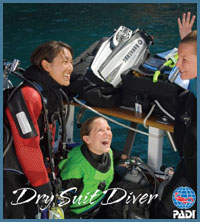 Want to stay warm and toasty on a dive? Then dive dry. Yes! Unlike a wetsuit, a dry suit seals you off from the outside water and that keeps you warm! Even in surprisingly cold water.
So what's the fun of diving in a dry suit?
Dry suits let you dive more challenging dive sites, and extend your dive season. When you have the right cold water scuba diving attire, you can stand up to the elements and take advantage of the generally better visibility offered by winter months—especially at inland dive sites such as quarries, lakes, sinkholes and caves etc. As a dry suit diver, you're equipped to scuba dive some of the world's incredible dive sites in the world's cooler regions that are best enjoyed in a dry suit even in their warmer months.
What do I need to start?
The PADI Dry Suit Diver Manual and Dry Suit Diving video. Read the manual and watch the video prior to the class. A dry suit is necessary along with cold water scuba diving equipment. For example, because you're more buoyant in a dry suit than in a wetsuit, you may want a different weight system setup.
What will you learn?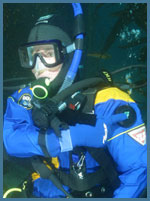 The first thing you'll discover is which dry suit style and accompanying undergarments are right for you and the diving you'll do. Then you'll learn how to take care of your dry suit. During two dives, in addition to a confined water dive, you'll practice:
Putting on and taking off your dry suit with minimal assistance
Mastering buoyancy control using your dry suit
Dive safety procedures when using a dry suit
Dry suits extend your diving season
Dry suits are preferred for diving at Lake Pleasant and in San Carlos during the winter months. Why would you want your diving season to be cut short. If you are considering a dry suit gives us a call at The Dive Shop and we will be glad to set up a class.
CLASS DATES
February 2018 class dates TBA
*Certification Trip Not Included.
**ALL STUDENTS WILL BE REQUIRED TO COMPLETE PADI RELEASE FORMS AND MEDICAL STATEMENT. FOR COPIES OF THE FORMS CLICK THE LINKS BELOW:
A Continued Education form (PADI Form 10038) is required once a year.  The year is defined by the date of the last PADI instructional class you enrolled. Everyone is required to submit this form.
Call 520-326-DIVE for more information.
THE DIVE SHOP IS A PADI FIVE STAR INSTRUCTOR DEVELOPMENT CENTER
The PADI System of diver education is based on progressive training that introduces skills, safety-related information and local environmental knowledge to student divers in stages. PADI courses are student-centered and provide maximum practice and realistic application.