Fish ID
The Dive Shop Fish Identification Course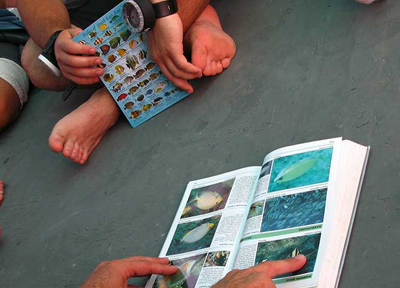 Cost of Course
$185
*Trip Not Included In Class Price.
Who should take this course?
"What was that fish?" is a common question heard after a dive. If you want to be the scuba diver with the answers, instead of the one asking the questions, then take the Fish Identification Specialty course. You'll enjoy your dives even more when you recognize the creatures that you see and can identify the main fish families and their characteristics.
If you're at least 10 years old and a PADI (Junior) Open Water Diver or higher, you can enroll in the Fish Identification course.
What will you learn?
Once you learn to recognize what types of fish you see, you'll find it easier to reference the exact species after a scuba dive. For example, a butterfly fish in the Caribbean has a similar shape to a butterfly fish in Southeast Asia, but colors and markings may be wildly different. If you know what fish family it belongs to, you can more easily look up the local name or at least be able to intelligently ask the local scuba instructor what you saw.
During two scuba dives, you'll learn:
How to identify characteristics of local fish families and species.
Fish survey techniques and strategies.
Get credit! The first dive of this PADI Specialty Diver course may credit as an Adventure Dive toward your Advanced Open Water Diver certification – ask your instructor about earning credit.
*Certification Trip Not Included.
**ALL STUDENTS WILL BE REQUIRED TO COMPLETE PADI RELEASE FORMS AND MEDICAL STATEMENT. FOR COPIES OF THE FORMS CLICK THE LINKS BELOW:
A Continued Education form (PADI Form 10038) is required once a year.  The year is defined by the date of the last PADI instructional class you enrolled. Everyone is required to submit this form.
Call 520-326-DIVE for more information.
THE DIVE SHOP IS A PADI FIVE STAR INSTRUCTOR DEVELOPMENT CENTER
The PADI System of diver education is based on progressive training that introduces skills, safety-related information and local environmental knowledge to student divers in stages. PADI courses are student-centered and provide maximum practice and realistic application.