AWARE Fish ID
The Dive Shop Project AWARE Fish Identification Course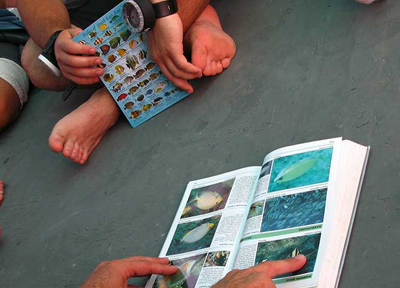 Cost of Course
$125
*Trip Not Included In Class Price.
PADI Project AWARE
The underwater world needs heroes. You can be one of them by championing the causes of the world's most fragile and important aquatic ecosystems.
The fun part:
You can make a difference. Learn about some of the most pressing problems facing these vulnerable environments and everyday actions you can take to help conserve them. It's informative, interesting and most importantly, you learn how to make a difference. Prizes, Prizes and more Prizes!!!!!!!
What do I need to start?
The AWARE – Coral Reef Conservation course references information in the digital manual – AWARE – Our World, Our Water – downloadable for free on projectaware.org.
What will you learn?
Project AWARE Foundation is the scuba diving industry's leading nonprofit environmental organization dedicated to conserving the aquatic environment through education, advocacy and action. Besides completing the Project AWARE Specialty course, you can become a partner in the efforts to preserve the underwater environment.
The ocean commons and coastal zone issues
Fisheries challenges and sustainability
Coral environment overview and inhabitants
The role of the scuba diver in protecting aquatic environments
Earn your PADI Project AWARE specialty, help clean up the beach and win prizes.
*Certification Trip Not Included.
**ALL STUDENTS WILL BE REQUIRED TO COMPLETE PADI RELEASE FORMS AND MEDICAL STATEMENT. FOR COPIES OF THE FORMS CLICK THE LINKS BELOW:
A Continued Education form (PADI Form 10038) is required once a year.  The year is defined by the date of the last PADI instructional class you enrolled. Everyone is required to submit this form.
Call 520-326-DIVE for more information.
THE DIVE SHOP IS A PADI FIVE STAR INSTRUCTOR DEVELOPMENT CENTER
The PADI System of diver education is based on progressive training that introduces skills, safety-related information and local environmental knowledge to student divers in stages. PADI courses are student-centered and provide maximum practice and realistic application.